Concrete Contractors Melbourne
With our extensive portfolio of successfully completed projects, we have the experience to deliver your job on time, within your budget and to your satisfaction.
Concreting Services we offer
At Roadseal civil, we are a full-service concrete contractor in Melbourne, specialising in residential and commercial construction. Our team is here to help you with your concrete needs, from installation and repair to maintenance, upkeep, and more. We have been trusted by customers in the local community for more than 25 years to provide quality workmanship at a competitive price.
As one of the leading concrete companies in Melbourne, we aim to ensure that you and your family enjoy a safe, reliable, and durable foundation for years to come. From our professional concrete services to our commercial-grade paving solutions, we have the experience and knowledge to complete every scale project quickly and efficiently. Our knowledgeable staff will work closely with you to ensure your complete satisfaction with the project's final outcome. So, whether you need a new parking lot or a concrete driveway in Melbourne, the expert team of Roadseal Civil has you covered.
Road Seal offers highly durable concrete paving services for commercial as well as residential sectors. With over 25 years of experience, we have paved and laid down concrete of all shapes and sizes matching the unique needs of projects of various scales.
Road Seal builds high-quality concrete hardstands for commercial as well as residential projects. The hardstands need to be carefully fitted and placed in order to ensure the strength of the structure. Since most hardstands are utilized for heavy traffic, strength, and resilience are something that cannot be compromised which is why we build them with the most premium-grade concrete and tools.
Concrete Kerb and Channel
Kerb and channel are is essential elements and work as a sustainable long-term solution for keeping all kinds of concrete structures highly resilient to various kinds of heavy traffic in your industrial or commercial property. We build concrete curbs and channels with the most premium grade products helping you give structure and boundary to your concrete.
We assist you in building speed bumps that are tough and high in strength for all kinds and high volume of traffic. All kinds of projects and no matter what kind of project you're looking for, we build highly powerful structures that withstand all types of situations.
Why Choose Us for Concreting Services
Reliable Concrete Contractors with High Expertise
Highly expert concrete contractors, backed by a team of dedicated and hardworking workers helping you build your vision
We work as per your timelines and deliver projects just in time to help you allocate things accordingly without any delay
All our tools, equipment, raw materials are of premium quality with the latest technology machines and tool kits.
Our experience of over 25 years allows us to know exactly how to allocate the required tools and resources to build the perfect concrete spaces
Roadseal prioritize sustainability over everything we do and make sure we leave the ecology of the space being worked on untouched, without compromising on quality
We always work under the safety protocols ensuring 24/7 safety at the site and for future prospects
Known as one of the reliable concrete contractors in Melbourne, we believe in offering the best of the best services in terms of everything. Our quality, work efficiency, premium resources as well as exclusive designs are backed by affordability allowing you to dive deep into the requirements you have for your concreting jobs. All our engineers and workers are completely dedicated to completing the project efficiently with the promise of quality and timely delivery. For us, customer satisfaction is a priority which is why we go to great lengths to help you sort out your requirements and have them delivered in the most timely manner. All these reasons, including many more, are why Roadseal remains the number one concretor in Melbourne for businesses or individuals looking to get a concrete job done.
Roadseal work with high efficiency completing your project within or before the stipulated time while maintaining our unmatched and quality workmanship. We offer competitive prices so you don't have to worry about unnecessary expenses when getting your concreting work done. Our professionalism and unparalleled support, as all your suggestions and inputs are more than welcome so we can offer perfect satisfaction in terms of work delivered. All our deliverables are quality and we offer end-to-end solutions in creating the best of concrete driveways in Melbourne, carpark, panels, speed humps, and more.
If you're thinking to get a concrete job done, you no more have to look elsewhere as we offer quotes without any obligation on the spot based on your design and the job at hand. We don't have any hidden costs and with highly competitive quotes, you're sure to find the best offer.
We have the expertise you need for:
Hardstands
Concrete driveways
Vehicle and Pram Crossings
Pits, Grates &Kerb and Channel
Drainage
Panels
Footings
Bunds
Factory Slabs
Machinery Pits
Speed Humps
What is Concrete?
Concrete is composed of cement, sand, rock aggregates and when mixed with water hardens with time.
What are the benefits of concreting?
It's a highly versatile building material used in many forms of construction. Concrete is structurally sound and impermeable to water and has a lifespan of 15 – 20 years when laid on a good solid base.
Concrete Contractors in Melbourne
Roadseal Civil is one of the leading residential & commercial concrete contractors in Melbourne with over twenty-five years of experience, we have built an extensive base of satisfied clients and a reputation for providing the best services in the industry at highly affordable prices.
If you have a concrete project in the planning stages, connect with our professionals for expert solutions.
Why Are We the Best Professional Commercial & Residential Concreters in Melbourne?
Roadseal Civil has operated in the industry for over twenty-five years. And in this time, we have continuously worked with our clients and expanded our services to become a one-stop shop for all your concrete projects. We have the experience and the expertise to address all your concrete needs, and over the years, we have built our reputation as one of the best concrete companies in Melbourne.
Here are some top reasons our clients like to work with us.
Benefits of Hiring Experienced Residential & Commercial Concrete Contractors in Melbourne
We are one of the most trusted residential and commercial concrete contractors in Melbourne. And we work with some of the most experienced professionals in the industry. Here's what you can expect when you choose to work with us.
One-Stop Solutions for All Your Needs
Over the years, we have expanded the services we offer. And you can call us all your residential and commercial concreting

projects. We provide complete solutions for all your needs, so you can rely on us to complete the task according to your requirements and specifications.
Competitive Pricing
We offer superior concrete services using only top-notch ingredients and the latest tools and techniques for results that exceed your expectations. Moreover, we provide a highly competitive pricing structure for all our services. So you can trust us to provide you with the best quality services at very affordable prices.
Professionalism
We only employ highly skilled and experienced professionals with impeccable credentials. And we believe in providing our clients with services that satisfy all their needs and requirements. It has helped us build our reputation as one of the most reliable concreters in South Melbourne

.
Our Residential & Commercial Concreting Services
At Roadseal Civil, we are committed to meeting all your requirements from start to finish at affordable prices. Our expert concrete contractors in Melbourne are certified to handle all types and sizes of concrete projects. And their longstanding experience in the industry allows them to deliver promising results within optimal time.
Continue scrolling to look at some of our concreting services.
At Roadseal Civil, we offer sturdy and reliable concrete paving services for residential and commercial establishments. We only work with qualified and experienced professionals with a proven background in the industry. It has helped us become one of the most well-known concreters in Melbourne's South Eastern suburbs.
We have extensive experience in paving and concrete laying projects of all types and sizes. And our team is equipped to handle the challenges of dealing with concrete projects of all kinds.
Kerb & channel are essential elements that ensure a concrete structure is sturdy and durable. They function as a long-term sustainable solution to ensure that your residential or commercial space is resilient to heavy traffic.
We are a team of highly experienced concreters in South East Melbourne, with expertise in concrete projects of all scales. Depending on the needs of your project, we build concrete kerbs and channels with high-quality materials to provide your structure strength and boundary that make it longer lasting.
Due to the large volume and constant use of car parks, concrete contractors use high-quality, durable, hard-wearing materials and specialised techniques to build them. At Roadseal Civil, we are experienced concrete contractors in Melbourne with extensive experience in car park building.
Our experts ensure that our structures meet all the safety and industry standards and commercial grades for the perfect finish. For this reason, we pay special attention to the substrate and its preparation process, so its consistency is constant and fit for high-strength commercial constructions.
We are a team of experienced concreters in Melbourne's South Eastern suburbs, and we can help you with all your concrete projects. Our experts help build tough and hard-wearing speed bumps resilient to high-volume traffic.
Whether residential or commercial, our team is ready to assist you with concrete procedures of all scales, we have the qualifications and expertise necessary to deliver high-strength structures that can withstand all wear and tear.
The most common application of concrete hardstands is ensuring the strength and durability of a structure against the flow of heavy traffic. Hence, they must be placed, fitted and installed correctly for maximum utility.
Our experts build highly tensile and durable concrete hardstands for your residential and commercial properties. We never compromise on the quality of materials and tools used for construction to ensure that the outcome exceeds your expectations.
At Roadseal Civil, we understand that your driveway is more than just a path for vehicles – it's an integral part of your property's overall aesthetic and functionality. With years of experience in the industry, we take pride in offering tailored concrete driveway solutions that cater to your unique preferences and requirements.
Using state-of-the-art techniques and high-quality materials, our expert concretors in Melbourne ensure that your concrete driveway not only withstands the test of time but also stands out for its impeccable finish. Our commitment to excellence and customer satisfaction has made us a trusted choice for concrete driveways in Melbourne.
Commercial & Residential Concrete Driveway Specialists
Whether you're a homeowner aiming to boost your property's curb appeal or a business owner seeking a durable parking solution, our dedicated team of concrete driveway specialists is committed to exceeding your expectations. With years of industry experience, we fully understand the unique demands of both residential and commercial projects.
Residential Concrete Driveway in Melbourne:
In residential projects, we recognise that your driveway serves a dual purpose – practicality and aesthetics. As specialists in residential concrete driveways in Melbourne, we strive to enhance your home's visual appeal while offering a reliable and lasting surface for daily use. Whether your preference is a classic or modern design, our skilled team collaborates closely with you to bring your vision to life.
Commercial Concrete Driveway in Melbourne:
For our commercial clients, we understand the pivotal role a robust concrete driveway plays, often serving as the first point of contact for customers and partners. Our dedicated commercial concrete driveway contractors in Melbourne are focused on creating parking solutions capable of enduring heavy traffic and varying weather conditions. Taking into consideration your business-specific needs, we ensure the design and construction of your concrete driveway align seamlessly with your operational requirements.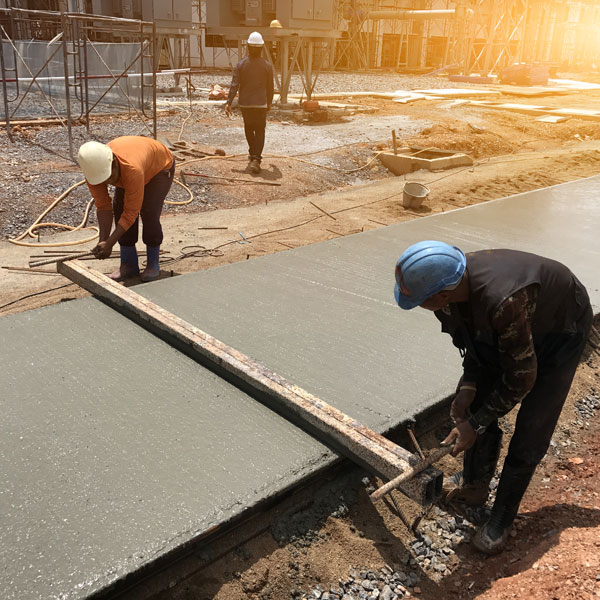 Call Us for All Your Concreting Projects
Do you have a residential or commercial concreting project in the planning stages and looking for qualified and experienced residential or commercial concrete contractors in Melbourne? Get in touch with us for a detailed, obligation-free quote for your project.
At Roadseal Civil, we are a team of highly experienced experts who strive to provide you with the best quality services at highly competitive prices. Call us now for hassle-free execution of your concreting projects.